Thetford migrant job seekers 'concern' for Norfolk MP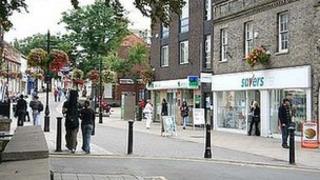 An MP has expressed her "concern" at the number of migrant workers coming to a Norfolk town while jobs are limited.
Norfolk migrant support service Mobile Europeans Taking Action (META) said 50 migrants were arriving Thetford each month despite the difficulties in finding work.
South West Norfolk MP Elizabeth Truss said economic problems in the Eurozone could add to the influx of workers.
META's Maria Brandao said workers were not returning home despite the issues.
As of April 2012, 19,200 people were claiming job seekers allowance in Norfolk - 1,400 more compared to the same time last year - according to official statistics.
In the past decade Thetford has built up a large Portuguese community, with many in the town working on farms and in factories.
An increasing number of Polish and Lithuanian people are also settling in the town and Ms Brandao said the continuing migration to Thetford was making it more difficult for everyone to find work.
"When I arrived here seven years ago things were much easier to get a job. Nowadays things are much worse," said Ms Brandao.
"People get disappointed when they arrive here because other people that were here before told them things that are not so true. But usually people don't want to go back home because they know that they don't have any possibilities at all," Ms Brandao added.
Ms Truss said she was "concerned on various levels" at the number of migrants coming to Thetford despite the economic downturn, but added that the workers were a vital part of Norfolk's economy.
"The reality is that migrant workers are heavily employed in the local economy and when I've visited local factories and farms I found that the work is very much relied on," said Ms Truss.
"I think we need to be very careful given what's going on in the Eurozone to make sure we've got arrangements in place. We need to make sure that people are not arriving here and finding there's no work and the situation causes further difficulties."