Norfolk cat shelter in desperate crisis, says RSPCA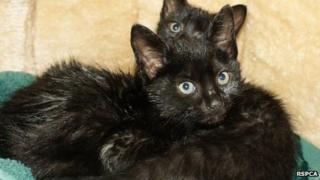 The RSPCA says one of its Norfolk cat shelters is in "desperate crisis" as it is six times oversubscribed.
The charity's East Norfolk branch in Ingham currently has about 57 cats compared to the 10 it usually houses.
Its manager Debra Cook said many of the animals were being kept at a private cattery, but some were also at foster homes and living with staff.
She added no more could be taken in until homes had been found for the cats currently housed at the centre.
Mrs Cook said many of the cats were abandoned due to owners getting into financial difficulties, but some had also suffered severe cruelty.
'No more space'
She said one cat had been brought in with suspected boiling water or fat thrown over it and another had chemical burns.
"It's a desperate crisis. We've got no more space at all. We've got cats in the vets waiting to come in, but I've got nowhere to put them," said Mrs Cook.
"We're coming across more and more all the time which are just being dumped through people not wanting them.
"They're all lovely and come to us through no fault of their own, but they all need homes."
Mrs Cook said the local RSPCA was finding more cats abandoned in people's homes after they had been evicted.