Norfolk Police bollard crash officer: 'No further action' taken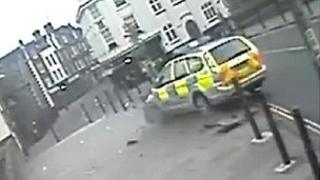 A police officer will not face punishment after crashing a patrol car through a line of bollards near a Norfolk pub.
The officer was suspended from driving duties following the collision near to Fye Bridge, in Norwich, at about 4:45 BST on 29 May.
Norfolk police would not comment on what caused the crash, but said the officer would not face further action.
The patrol car had been repaired, a police spokeswoman added.
Footage of the crash, near to the Ribs of Beef pub, was posted on YouTube and has been viewed nearly 60,000 times.
"The incident was the subject of a road traffic collision investigation," said a Norfolk police spokeswoman.
"An assessment was made based on the facts of the case, which concluded no further action was required."