Norwich speedway plans revealed for Norfolk Showground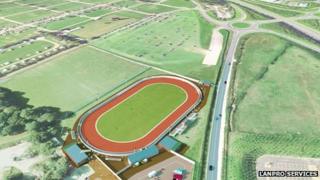 Plans to bring speedway racing back to Norwich after 47 years have been unveiled.
Lanpro Services said it would submit plans to South Norfolk Council by the end of August to resurrect the Norwich Stars team at the Norfolk Showground.
If given the go-ahead, the New Firs Stadium would be built on a former golf driving range by the end of next year, said the firm.
The previous Stars stopped racing in the city in 1965.
Lanpro director Philip Atkinson said: "It took 64 years for the Olympics to return to England so we're delighted to be making a planning application to finally bring speedway back to Norwich inside the half century."
Norfolk Showground spokeswoman Louise Wilkinson said it was approached by the company a few months ago and the proposal was given "considerable consideration", before concluding it would be "the ideal location for speedway".
"We are an edge of city location right on the bypass making access easy and, of course, we have ample parking," she said.
'Sustainability'
"The agreement we have reached with the potential speedway operators will ensure that there is no impact on parking for the Royal Norfolk Show and none of our other events will be affected."
Under the deal, racing would only take place on Saturday nights when there are no other major events at the showground and practices would be held on Wednesdays.
Racing would only be allowed to take place until 22:00 BST.
Former Norwich Stars rider and five-time world champion Ove Fundin said: "It would bring back so many happy memories.
"I think many more people than I would be happy because I think it's strange that it's close to 50 years since they closed up the speedway."
King's Lynn Stars speedway team said it would not object to the proposal, but its promoter Jonathan Chapman said: "I'd be worried about the sustainability of running two clubs, especially when 30% of our supporters come across every week from Norwich."
The club added the 'Stars' name was transferred to King's Lynn along with the promoters' licence from Norwich in 1965. It has not given permission to the new club to use the name.