Machiavelli's The Prince fails to sell at Norfolk auction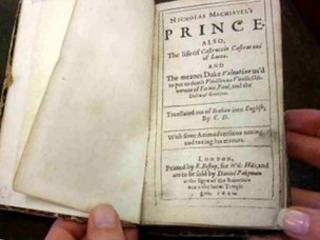 A rare first edition translation of The Prince by Niccolo Machiavelli has failed to sell at auction.
The 17th Century English translation, valued between £25,000 and £30,000, was found in a pile of common prayer books at a Norfolk home in Swanton Morley.
Andrew Bullock, from Keys Fine Art auctioneers, was "surprised" the book failed to secure a sale.
He said: "The nearest we got was £18,000 but it would be irresponsible to sell at that price."
He added: "The financial climate can affect this kind of sale, but even within the book trade that is operating at a high level, there is not so much buying of expensive books for stock as there used to be."
An historian, diplomat and philosopher Niccolo Machiavelli is regarded by experts as the founder of modern political science.
The Prince was originally written in Italian in 1513 and published in 1532, five years after Machiavelli's death.