Norwich nightclubs call time on late-night drinking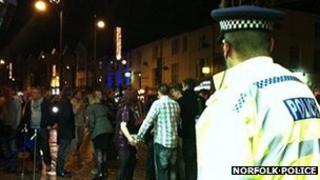 Nightclubs in Norwich have voluntarily agreed to call time on sales of alcohol in the early hours in a bid to cut crime and anti-social behaviour.
Venues along the city's Prince of Wales Road will stop selling alcohol at 04:00 from Friday, 3 August.
Norfolk Police said the availability of alcohol into the early hours was seen as a key contribution to disorder.
Supt Paul Sanford said he was "grateful" to the owners of the pubs and clubs for taking "positive action".
Norfolk police and Norwich City Council have been working with licensees to improve safety in the area.
'Thriving and safe'
Supt Paul Sanford, of Norfolk Police, said: "Since de-regulation through the Licensing Act in 2005, clubs in Norwich have opened beyond 4am and there has been a dramatic increase in alcohol related crime between 3am and 6am.
"Earlier closing will help to re-balance the resource demand for emergency services and city council services such as street cleaning."
Norfolk Police figures show there have been 336 more crimes between 03:00 and 06:00 in the three-year period since clubs in Norwich have opened beyond 04:00, compared with the three-year period before it started.
"I'm pleased that some venues are taking responsibility and the action ultimately shows they understand the supply of alcohol well into the early hours is a contributing factor in violent crime and disorder," said Supt Sanford.
A spokesman for Norwich City Council said: "As the licensing authority, the city council, is happy to support the police in this collaborative work to promote the licensing objectives and to encourage a night time economy which is both thriving and safe."