Norfolk Police car bollard crash 'caused by fatigue'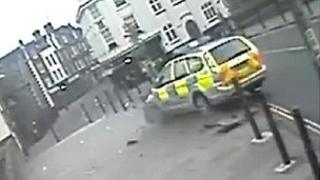 An investigation has found "fatigue" caused a Norfolk police officer to crash a patrol car through a line of bollards outside a city centre pub.
The crash demolished posts outside the Ribs of Beef, near Fye Bridge, Norwich, at 04:45 BST on 29 May.
The Norfolk Police report into the crash said it would "appear a second's inattentiveness on behalf of the officer through fatigue" was to blame.
The report was obtained by a BBC Freedom of Information Act request.
CCTV footage of the crash was posted on YouTube and has been viewed more than 67,000 times.
Cost of street repairs
A spokesman for Norfolk Police said the incident was "fully investigated as a road traffic collision by a senior officer" but inquiries found "there were no criminal or formal misconduct matters to answer".
"The officer has received management action as a result of the investigation," the spokesman said.
The force refused to comment on what caused the crash when asked at the time.
But it released the report, marked as "restricted", after the BBC Freedom of Information Act request.
The force said: "Collision reports are only routinely available to those directly involved in the incident in question and upon request."
The officer involved has not been named. The damaged police car has been repaired.
Norwich City Council said the cost of the repairs to the damaged area on Fye Bridge Street had yet to be established.
Work to replace the bollards is due to be carried out in the next two months - with the bill for the work set to be sent to police.
"We will continue to liaise with our Norfolk Constabulary colleagues and an invoice will be sent when it comes to covering the cost of this work," said a council spokesman.