Wind turbine plan for farmland at Bodham rejected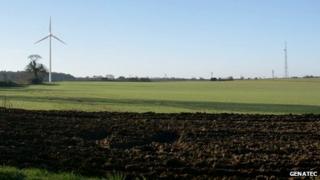 Plans to build an 86.5m (284ft) high wind turbine in north Norfolk have been rejected in a unanimous vote by councillors.
The turbine on farmland at Bodham would have generated energy for 665 homes and been "a good asset for the community" said developer and farmer David Mack.
More than 1,400 people wrote to North Norfolk District Council objecting to the plans.
Mr Mack said the council had not given credit for project's "positives".
The turbine would have been built on Pond Farm and operated by Mr Mack and his family under the name Genatec.
"We're disappointed at the outcome, especially as it was a unanimous no," said Mr Mack.
"We'd put a lot of effort and our hearts into the project in the last four years because we felt it would be a good asset to the local community.
"We really don't feel the council has given us enough credit for the positives of the project... we feel these would far outweigh any environmental impact the turbine would have had."
Campaigner David Ramsbottom, from the No To That Turbine group, said "the majority of people in this area are delighted" at the council decision.
He added: "I think it's a good result for democracy. Local residents will be able to sleep at night now which is very important. The main concerns were noise and the visual aspects."
Mr Mack has yet to decide if he will appeal against the decision.