Charles Watson death at St Olaves a 'tragic accident'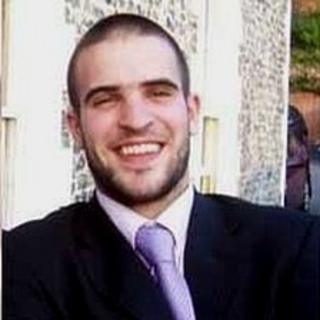 A man on a stag party in Norfolk who died after driving his car into a river might have been unaware it was there, an inquest has heard.
Charles Watson, 25, from Henstead, Suffolk, was found in his car in the New Cut at St Olaves on 13 April.
The hearing was told it was possible Mr Watson, who had been drinking, tried "to escape via the driver's window".
Coroner William Armstrong recorded a verdict of death by drowning in a "tragic accident".
A toxicology report showed Mr Watson was driving three times over the legal limit.
Mr Watson, known as Sam, joined the 10-strong stag party of friend Paul Miller about 19:00 BST on 8 April in Great Yarmouth's Troll Cart pub. The party finished about 01:40 BST at Caesars Bar.
At 19:00 BST Mr Watson rang his colleague Roger Hurren to arrange to sleep on his sofa for the night.
'Seemed merry'
"He'd had a pint and said if he had one more he'd be over the limit," Mr Hurren told Norfolk Coroner's Court.
The group offered Mr Watson a lift to Mr Hurren's as the stag party wound up, but he indicated he wanted to continue to enjoy the evening.
Edward Sheering, who was on the stag night but not drinking, told the inquest: "I saw him [Sam] walk towards another nightclub, he seemed merry."
Mr Watson texted Mr Hurren at 03:15 BST on 9 April to say "found somewhere to stay, you can lock the door".
Mr Watson's phone disappeared from the mobile network one minute later, the time police believe the car entered the water.
Mr Watson was reported missing by his family on 10 April.
The inquest heard that it appeared Mr Watson had stopped to send a text and then, as he turned around, drove into the river.
Collision investigator Sgt Andy Hood told the inquest: "Mr Watson drove into the river unintentionally while under the influence of alcohol.
"There is no view of the river when approaching the edge even in full daylight.
"Owing to the layout of the window switches, combined with the disorientation of being upside down in cold water and the prior consumption of alcohol, it is possible the deceased was trying to escape via the driver's window, but inadvertently lowered the rear window."
Mr Armstrong said: "I would like to offer my sympathy to the family. This was a tragic death and I'm sure unanswered questions will continue to haunt the family."