Norwich Cathedral installs heart attack defibrillator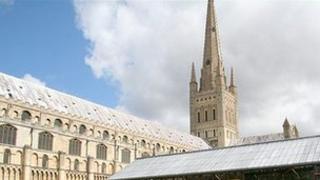 A cathedral is to install a life-saving defibrillator for use in emergencies.
The portable electronic device for treating people in cardiac arrest is to be installed at Norwich Cathedral.
The unit is also designed to benefit the local community as they will also have access to the unit in emergencies.
The East of England Ambulance Service trained cathedral staff to use the unit and its position and key code are logged on its computer system.
Call handlers responding to 999 alerts can flag up its position and provide the special key code to open the box.
Andrew Barlow, from the ambulance service, said the devices saved lives "so the more we can get into areas of high footfall the better".
He added: "Norwich Cathedral is the perfect place to locate one. As well as the regular congregation and many visitors this is a residential area with a popular school as well as bars and restaurants."