King's Lynn amphibious ferry plan approved by council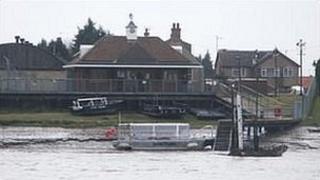 A new amphibious ferry service across the River Great Ouse at King's Lynn has been approved.
West Norfolk Council has agreed to provide £30,000 towards the service linking West Lynn with the town centre.
Sandbanks in the river have sometimes prevented the existing ferries from reaching the jetties.
The new service was approved by councillors on Tuesday evening and could begin carrying passengers as early January.
The money will be recovered through decreasing council subsidies to the ferry.
Council leader Nick Daubney said: "It's important to us as a community that the ferry service continues to operate satisfactorily.
"It's a valuable service to a great number of people and it's a very attractive service that comes with hundreds of years of tradition."