City College Norwich to create new degrees campus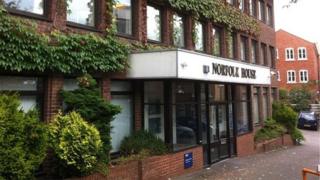 Bank offices will be converted into a new campus for degree students at a Norfolk college after a council gave its approval.
City College Norwich (CCN) will move higher education courses from its Ipswich Road site to Norfolk House on Exchange Street.
It means degrees will be solely taught at the new city centre building and the nearby St Andrew's House.
The new campus is due to open to students from September 2013.
Norwich City Council unanimously gave the go-ahead to a change of use for the building, currently Royal Bank of Scotland offices, on Thursday.
The acquisition of Norfolk House means the college's main Ipswich Road campus will only be used for further education and adult vocational training from next year.
'Tough decisions'
Work on a new £5.7m arts and media centre at Ipswich Road is due to begin in the next few weeks.
Corrienne Peasgood, principal of CCN, said: "The addition of Norfolk House will further strengthen the college's higher education facilities and community, providing an attractive, city centre campus."
In recent years the college has faced funding cuts and had to make staff redundant, but its chief executive officer Dick Palmer said its investments were vital to maintain education standards.
"Our governing body has made tough decisions about these things, but they're financially astute decisions," he said.
"If we want to keep people coming to the college, they want to come to a good place - a college with great facilities and great staff - and we're determined to manage both of those things."