'Noah's Ark' house in Burgh Castle becomes tourist attraction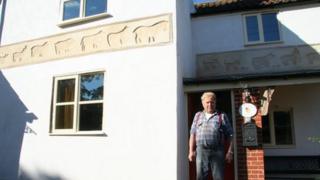 A man's country home has become an unlikely tourist attraction after he made a version of the Noah's Ark story on its walls.
Former builder Trevor Austin, 57, carved the outlines of 40 animals on the walls of his house in Burgh Castle on the Norfolk Broads.
He has since seen his house become a sight-seeing stop for visitors.
"We had a coach-load of Canadians come in the house one day and they all loved it," he said.
"When they stopped, I invited them in for a cup of tea. They loved bending down to get in the front door.
"Loads of people stop and take photos. A lot of walkers stop and point."
Jack Russells, sheep, billy goats, pigs, chicks and cart horses adorn the front of the house, with a fox chasing hens and geese on to the ark on the side.
Mr Austin, who was brought up on a farm, said the frieze took about a year to produce with his son Ben and said it would have cost "thousands of pounds" if he had charged himself a builder's rate.
"People have given us good comments and I think they're waiting to see whatever the 'mad man' of Burgh Castle is going to come up with next."
Following the warm reception from passers-by, he now plans to extend the artwork.
"Noah's Ark is a symbol of sanctity and safety which I wanted to reflect on my home. I don't want to move anywhere else," he said.