MP 'baffled' over Arfath Ali Norwich Crown Court escape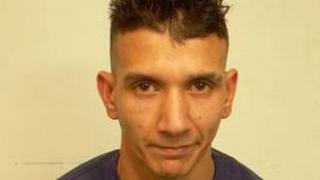 An MP has described as "baffling" the escape of a defendant from a crown court and the failure to hold anyone responsible.
Arfath Ali, who had been charged with assault, was on the run for 12 days after leaping over the dock at Norwich Crown Court on 3 April.
Simon Wright, MP for Norwich South, has called for a risk assessment.
Security firm Serco said no-one was being disciplined but it was investigating the incident.
Ali, 29, was recaptured at an Asda supermarket in Ipswich.
He was jailed for seven years for wounding with intent on 6 September, after being found guilty of glassing a man in the face during a fight at Mojo's nightclub, in Norwich, on New Year's Eve.
He also received a further nine months after pleading guilty to escaping from custody.
'Quite baffled'
Serco, which employed a single guard to monitor Ali in courtroom three, said the defendant had leapt "without any warning" over the dock door and "sprinted out of the court".
Liberal Democrat MP Mr Wright said: "A lot of trials don't take place in a secure dock. If it was assessed that a defendant was likely to do this, measures would have been put in place.
"I'm sure it was a surprise and shock to many people that someone could just run out of the building.
"It is quite baffling this could have happened.
"I would have liked to have seen someone take responsibility for this. Someone should look again at the risk assessment process to check it is as good as it can be."
Serco said: "No security measures failed given that this was not a secure dock.
"One officer escorted Mr Ali in the dock which is normal practice. No-one has faced disciplinary action.
"There will be an investigation which will identify whether any changes are necessary as a result of this incident."
HM Courts and Tribunals Service, which employs guards on the front door of Norwich Crown Court, said: "The decision as to which courtroom a case is heard in takes into account any risk assessment undertaken by the prisoner escort contractor.
"There has been a full investigation into this escape to ensure that any lessons are learnt from it."