Great Yarmouth council aims to avoid job cuts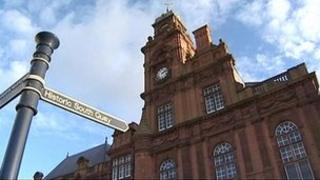 A Labour-run council in Norfolk facing £10m budget cuts over the next three years hopes to avoid compulsory redundancies, its leader says.
Instead, Great Yarmouth Borough Council aims to boost income to cover shortfalls, make internal savings and is considering voluntary job cuts.
Council leader Trevor Wainwright said 55 staff had already volunteered to go but he wanted to maintain staff levels.
The Conservative opposition supports councils sharing services to cut costs.
The council's overall budget in the current year is about £16m and this is set to reduce to an estimated £14m by 2014.
Cuts of £4m have been achieved since 2010 when the grant from central government was £15m and the overall budget was £20m.
Sharing services
The council's central government grant will reduce to £7.5m in stages by 2014. The administration said it had to make up a shortfall of about £10m by increasing income or making savings.
"The council is working to identify savings and efficiencies," Mr Wainwright told a council meeting on Tuesday.
"We have to cut our costs by around £10m over the next three years in order to live within the future budget settlement granted to us by the government.
"Offering voluntary severance is one way in which we will be able to make savings.
"Alongside that is finding ways in which the council can increase the amount of income it generates, as well as looking at where costs of delivering services can be reduced.
He added: "The more new money we can generate the less posts that will need to go.
"We will continue to do everything we can to ensure that we avoid compulsory redundancies."
Conservative MP for Great Yarmouth, Brandon Lewis, said: "What I'm keen for them to do is look at sharing services with other authorities."