Warren Owen death sparks Dereham graveyard row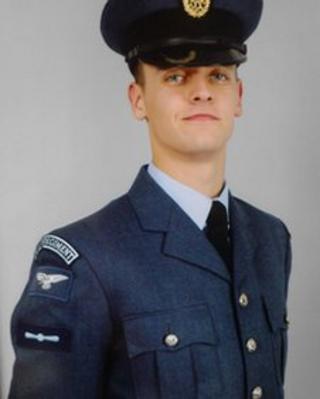 The mother of an 18-year-old airman killed in a motorbike crash said she "broke down" after being told she could not buy a burial plot next to him because of a lack of cemetery space.
Ellise Owen applied to Dereham Town Council to be buried next to her son, Warren, in the Norfolk town after he hit a tree and died in May.
The council said it empathised but had refused similar requests.
A petition to overturn the ruling has reached 1,200 signatures.
Mr Owen, a 27 Squadron gunner at RAF Honington, in Suffolk, was on his way to watch a motorcycle race at the Snetterton circuit in Norfolk when he struck a tree near Watton.
Mrs Owen asked if she could reserve the plot next to her son's at the Cemetery Road burial ground but was told that would not be possible.
'Exceptional circumstance'
The town council said it made the change in November 2010 as it was running out of space. A new cemetery is due to open on Norwich Road in 18 months.
Mrs Owen said: "I just broke down. I never dreamed that I would not be able to lie next to my son.
"I would consider burying a child an exceptional circumstance."
The council said it had only made one exception to its new rule after it allowed the grave of a paratrooper who died in Afghanistan to be placed next to family members.
Robert Hambidge, from the authority, said: "We can strongly empathise with Mr and Mrs Owens' feelings.
"The fact is that if we hadn't stopped selling plots in this way, we would risk running out of burial space before the new cemetery is available for burials and no-one would thank us for that.
"While this is a tragedy for this particular family, we have had requests from many other bereaved families and also had to turn down their requests."