Great Yarmouth: Harbour chief 'confident' of new jobs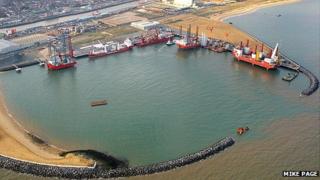 Steps to make Great Yarmouth's Outer Harbour more attractive to the offshore energy sector will bring employment to the town, its management have claimed.
Eastport UK is investing about £10m to narrow the harbour mouth to "calm sea conditions", making it more suitable to the needs of the offshore industry.
The £100m harbour project has been criticised in the past for not bringing jobs and investment.
But Eastport UK chief executive Jamie Frater said he sees a "buoyant" future.
The current, wide harbour mouth was originally designed to be suitable for container ships and roll-on, roll-off ferries.
"With the global recession and in particular the downturn in the European economy, the development has not been realised," said Mr Frater.
"Now we're looking at offshore energy - windfarms, oil and gas - where we see a very buoyant future.
'Jobs and security'
"The design of the outer harbour is being changed to create calmer sea conditions inside the harbour which will benefit the developing offshore North Sea energy sector.
"A lot of what we're doing is heavy lifting and for that you need reasonably calm conditions.
"This is a considerable investment on top of the original spend - but with this will come jobs and security which is what everybody in Great Yarmouth wants to hear."
Mr Frater told the BBC the port has had large number of inquiries from offshore windfarm developers and construction companies in the last two months that will in turn bring investment to the local economy.
"These outfits will bring a large number of jobs, particularly in manufacture and construction, which is going to be good for Great Yarmouth.
"The investment is coming - we've been discussing with many clients and we're hopeful to announce some good news in the not too distant future."
Mr Frater said he was unable to comment upon which companies Eastport had been in discussion with at this stage due to commercial confidentiality.