Norfolk businessman Graham Dacre fraud: Two men jailed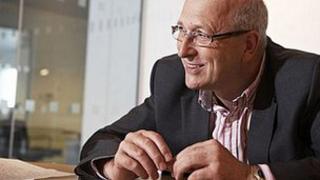 Two men who defrauded a Norfolk businessman in a "giant confidence trick" have both been jailed for 11 years.
George Katcharian, 60, and Cemal Esmene, 56, were involved with three others in the £20m fraud of Graham Dacre and a German church.
Both were convicted by a jury at Norwich Crown Court of conspiring to defraud Mr Dacre out of £12m.
The court heard the fraud was the largest investigated by Norfolk Police.
It was also the largest fraud investigated by a regional police force working without the help of the Met Police and Serious Fraud Office.
During the fraud, Mr Dacre was persuaded to hand over money for a high-yield investment fund, hoping to use the profits to fund charitable schemes.
Simon Draycott, for Katcharian, of Denmark, said he had a "profound belief, rightly or wrongly, that the proceeds of the fraud were to do good".
He added that Katcharian "didn't get the substantial sums that were being taken".
'Audaciously dishonest'
Katcharian was also convicted of conspiring to defraud the New Apostolic Church in Dortmund, which the court heard lost 10 million euro (£8.1m).
The court heard a "significant" proportion of the money from the two frauds went into accounts controlled by Esmene, of Cyprus, who was convicted of money laundering.
All of the money, however, had been collected by another defendant, Ian Yorkshire, who was jailed in June.
Katcharian and Esmene had denied the charges and were men of "previous good character", the court heard.
Sentencing them, Judge Nicholas Coleman said they had committed a giant confidence trick and "calculated acts of fraud to persuade two individuals to parts with enormous sums of money".
"You were playing high stakes and you both lost."
He said their behaviour was "mendacious from the start, brazen and audaciously dishonest".
"This was, in my experience - in terms of sums involved - without precedent, so long sentences must follow," he added.
He commended Det Con Christopher Gay, who single-handedly investigated the frauds for four years, for his "extraordinary diligence".
Alan Hunt, 65, of Poole, Dorset, Arthur Ford-Batey, 62, of Carlisle and Ian Yorkshire, of Brighton, were all jailed in June following a separate trial.
Speaking after the hearing, Det Con Gay said work would continue to try to recover the money.
Mr Dacre said he regretted the effort and energy the case had absorbed but hoped the convictions would save others from a similar fate.