Dad's Army Museum in Jones van auction bid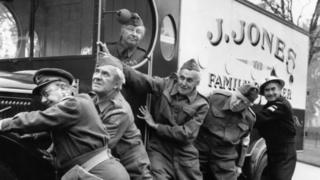 A museum in Norfolk is hoping to raise enough money to buy a classic piece of Dad's Army memorabilia and return it to "Walmington-on-Sea".
The Dad's Army Museum in Thetford - the town which provided the setting for the popular BBC comedy - is hoping to buy L/Cpl Jones's butcher's van.
L/Cpl Jones - whose catchphrase was "don't panic" - was played by Clive Dunn, who died on Tuesday aged 92.
The butcher's van is predicted to fetch up to £30,000 at auction in December.
Museum chairman Stuart Wright said it would be a "lovely tribute" to the actor.
'Natural home'
The 1935 Ford box van is forecast to sell for between £20,000 and £30,000 when it comes under the hammer at Bonhams in Weybridge, Surrey on 3 December.
It is being sold off as part of a collection of vintage vehicles.
Mr Wright said: "Jones the butcher is synonymous with his van, and the museum is very keen to acquire it and bring it home to Walmington-on-Sea where it should be.
"Obviously as it's an auction we don't know how much we're going to have to raise."
He added: "We've had a lot of messages of support from people saying this is the natural home for it."
He said Dunn was "a very good supporter of the museum".
"What we'd hate to see would be the van stuck in a private museum somewhere where no-one would actually get to see it," he said.
"We'd love to have it back in Thetford and with Clive Dunn passing it would be a lovely tribute to him."
Dad's Army ran for nine years from 1968 to 1977 and featured the exploits of a Home Guard platoon formed to protect the seaside village of Walmington-on-Sea from possible German attack during World War II.
Dunn died on Tuesday in Portugal from complications following an operation.