Man fined after EDL and We Are Norwich marches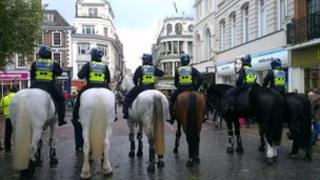 A 28-year-old man from Norwich has been fined for using threatening words or behaviour during marches in the city.
Matthew Berryman, 28, of Astell Road, was arrested when the English Defence League (EDL) and a counter protest by We Are Norwich took place in the city on 10 November.
He pleaded guilty to the charge at Norwich Magistrates' Court.
Berryman was fined £150 and ordered to pay costs - a surcharge of £20 and £85 to the Crown Prosecution Service.
The EDL had organised its march in protest at Norwich City Council's decision to ban Pastor Alan Clifford, of Norwich Reformed Church, for promoting anti-Islam leaflets from a council-owned stall on Hay Hill.
We Are Norwich, a coalition of more than 20 groups, staged a counter-demonstration.
Police said about 400 officers from 11 forces were on duty in the city when the marches took place.