Norwich former fire station becomes sixth form academy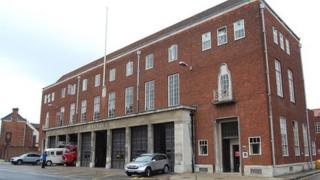 A new sixth form academy specialising in mathematics and science and aiming to recruit "gifted" students is to move into a former fire station in Norwich,
The building in the centre of Norwich will house classrooms, laboratories, staffrooms, a library and cafeterias.
The Sir Isaac Newton Sixth Form aims to recruit 220 students for the new academic year from Norfolk, Waveney and North Suffolk.
Within two years it hopes to have a roll of 450 to 500 pupils.
Rachel de Souza, in executive control of the school, said that a recent open evening attracted a large number of people.
The aim of the school is to produce good community young people and to prepare them for study at the leading universities.
Norfolk charity The Lind Trust, run by businessman Graham Dacre, bought the former fire station which stands next to Norwich City Hall.
Firefighters moved to a new base at Carrow outside the city, leaving the 1930s Grade II-listed building vacant.