Cromer double shooting: Shot wife 'killed with own gun'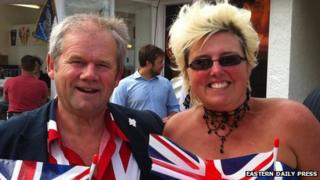 The wife of a Norfolk council leader believed to have been killed by her husband was shot with one of her own guns, police have said.
Keith Johnson, 58, is thought to have used a shotgun to kill Andrea Johnson, 44, on Sunday, before killing himself.
The couple were found dead in neighbouring gardens in Compit Hills, Cromer. The gun was next to Mr Johnson.
Post-mortem tests showed both died from gunshot wounds. The family of Mrs Johnson has paid tribute to her.
A Norfolk Police spokeswoman said Mrs Johnson had a firearms certificate for four guns.
'Sorely missed'
In a statement, the parents of Mrs Johnson said: "We are devastated by the loss of our beautiful daughter Andrea, she was a wonderful daughter, aunt and sister.
"She was so bubbly and full of life, she adored her family and has been tragically taken from us. She will be very sorely missed."
Det Ch Insp Andy Guy said police were called after a member of the public heard what they described as a "car accident".
"Andrea was found in number 41, her husband at 39," said Mr Guy.
"I can only imagine how horrific it was to find their neighbour dying or dead in the front drive."
Detectives are investigating the personal lives of the couple as part of the investigation.
Mr Johnson, a former mayor of Cromer, was found dead in the back garden of his home address.
He became Conservative leader of North Norfolk District Council in May and was also a town councillor.
The couple, who had been together for 18 years and married in 2004, did not have children but Mr Johnson had a family from a previous marriage.
Mr Johnson was seen attending civic events on Friday.
His wife worked in customer services at Homebase in Cromer.