Norwich Puppet Theatre: Tinderbox marks 'new beginning'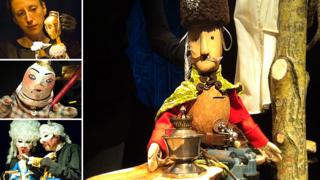 A puppet theatre which stood on the brink of collapse is celebrating a "new beginning" with its first home-grown production in seven years.
The Norwich Puppet Theatre's new interpretation of Hans Christian Andersen's The Tinderbox is a "landmark" and "the start of, we hope, several more productions," said a spokeswoman.
She added: "We are exceedingly grateful to all of the Norfolk community who gave their support to the theatre when things nearly collapsed."
The theatre, one of only two in England dedicated to puppetry, faced closure in 2008 when the Arts Council withdrew funding.
The venue played host to touring shows and was made available for hire to help pay for running costs.
Now grants have been secured from The Monument Trust and Arts Council England to allow in-house productions to resume.
Joy Haynes, director at the theatre, said: "We had to re-imagine how to engage with different audiences.
"We have a strong reputation for engaging with children and families but I want to expand that to include adults.
"It's about raising the bar, focussing on puppetry and becoming a national centre for excellence."
Performed by puppeteers Paul Preston Mills and Seonaid Goody, the 55-minute production uses a variety of puppet styles combined with animated landscapes.
The £35,000 show, which runs from 22 December to 5 January, has been developed by a 15-strong production team since the summer.
"The Tinderbox uses an enormous amount of puppet skills and disciplines. When we started rehearsing, this show felt almost impossible," said Mr Preston Mills.
"We're using shadow puppetry to more traditional style glove puppetry and humanettes where the human head is used on a puppet body. It quite complicated learning how to give each object a life and a character."
'Story is king'
The Norwich Puppet Theatre was founded in 1979 by Ray and Joan DaSilva as a permanent base for their touring company.
It first opened to the public in December 1980, following the conversion of the medieval church of St James in the heart of Norwich, and has played a role in thousands of Norfolk childhoods ever since.
But Mr Preston Mills feels puppet theatre should never be thought of as something just for children.
"There's an element when you say puppets people think 'children', but you wouldn't say that about Spitting Image."
"If you think about puppet theatre as an art form it covers such a broad spectrum you have to really think about what kind of theatre it is.
"For us, story is king - like in any narrative art form. If using puppets or animation can tell the story in the most effective way - that's the way to do it."