Teenager died in parked lorry crash in Norfolk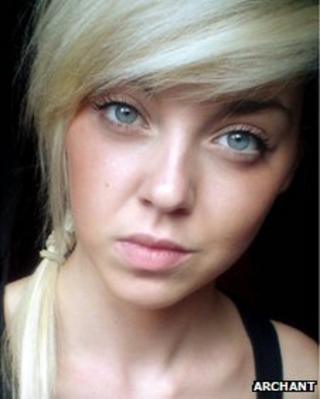 A teenager died from multiple broken bones after the car she was travelling in crashed into a parked lorry in a layby in Norfolk, an inquest hears.
Ellie Tweed, 18, from Hemsby, died in the crash on the A47 at North Burlingham on 1 November 2011.
Eleanor Coleman, 19, of Runham, near Great Yarmouth, was jailed for 15 months in October for causing death by careless driving.
The inquest heard that blood tests found Coleman had been taking drugs.
Ms Tweed, Coleman and two other friends were returning from a Halloween night out when the accident took place.
'Influence of drugs'
PC Simon Hall told the inquest that the accident happened at about 06:20 GMT and the road would have been dark at the time.
He said there were no signs that Coleman had attempted to brake before the Fiat Punto she was driving hit the lorry and she has no recollection as to whether she saw the lorry before she crashed into it.
Mr Hall said: "The lorry driver admits the vehicle was unlit. The law requires that it should have sidelights in darkness."
He said it was difficult to say whether this contributed to the crash, as the lorry did have clear "visible reflective panels".
Mr Hall said tests found that Coleman's ability to drive was likely to have been impaired by drugs.
Deputy assistant coroner for Norfolk David Osborne delivered a narrative verdict stating that Ms Tweed died from multiple injuries.
In October, Norwich Crown Court heard Coleman had driven friends in fancy dress from Acle to Norwich for a night out and was on the return leg the next morning.
After crashing into the lorry, the car soon burst into flames.
Witnesses, including lorry driver Peter Jolly, managed to get Coleman and her three back seat passengers out of the car, but Ms Tweed's body was not discovered until after the fire was put out.