Bishop of Lynn 'rocks the 60s' with charity hospice CD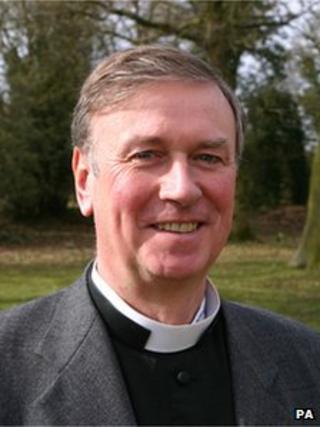 A bishop hopes his love of 1960s rock music will help raise money for Norfolk charities when he releases a CD later this year.
The Bishop of Lynn, the Rt Rev Jonathan Meyrick, 58, was inspired to record six tracks after singing with a 60s tribute band at King's Lynn's Festival Too.
He said he was "not looking to top the charts", but to boost funds for Tapping House Hospice and St Nicholas Chapel.
Songs include hits by the Rolling Stones, the Troggs and the Bee Gees.
Although he said he was not looking for stardom, the bishop is no stranger to the public eye having appeared on ITV's Stars in Their Eyes dressed as Reg Presley and singing Wild Thing.
'Broad tastes'
In 2011, while Dean of Exeter, he spent 24 hours reading poetry aloud in the cathedral to raise funds for the Third Millennium, a campaign set up to ensure the cathedral and its mission were sustained for the future.
Last summer's stage appearance with tribute band Yesterday was so successful band members suggested he record his own album.
The bishop said: "I have always been involved in performance on an amateur basis.
"I have a broad taste in music and in the past my singing has ranged from light opera to Gilbert and Sullivan and music from the 1960s.
"I have done a lot of work with choral societies but I can tailor my voice to fit the era."