Boost to numbers of young Bewick's swans in Norfolk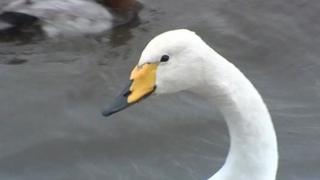 Bewick's swans are returning to Norfolk with the most young that ornithologists have seen for a decade.
Surveys on the Ouse Washes found flocks contain 17.6% cygnets and young compared to an average of about 10% over the past 10 years.
Bewick's swans have declined steeply in number since the 1990s.
Dutch ornithologists Wim Tijsen and Jan Beekman coordinate counts in northern Europe and report an average of 14% young, the highest since 2001.
The factors behind this year's success in their breeding grounds in Arctic Russia are not fully understood due to its remoteness.
Conservationists are concerned climate change is partly behind the recent decline, the Wildfowl and Wetland Trust at Welney said.
The trust has been X-raying Bewick's swans for 40 years and has found nearly a quarter have been shot, despite being protected in every one of the countries they fly through.
Swans are also large birds that cannot manoeuvre quickly in flight, making them susceptible to collisions with large man-made structures such as pylons and wind turbines.
The trust uses technology to track swans precise movements and uses the data to try to ensure wind farms are located where they will not affect migration.