Norwich artist's picture of daughter given £40,000 price tag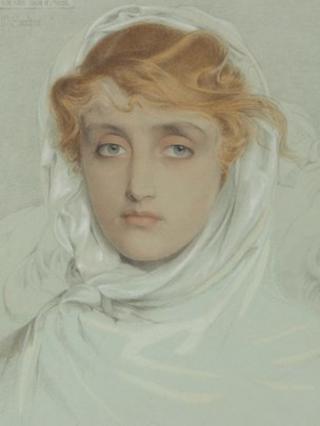 A 120-year-old drawing by a Norfolk artist which sold for £80 in 1962 is on offer again in the US with a price tag of between £40,000 and £67,000.
The pencil and coloured chalk drawing is titled The White Mayde of Avenel and is by Anthony Frederick Augustus Sandys born in Heigham, Norwich, in 1829.
The picture is of his younger daughter Mildred born in Norwich in about 1872.
The title was inspired by a character in Sir Walter Scott's novel, The Monastery, auctioneers Christie's said.
The drawing was last offered for sale at Sotheby's in London in May 1962 and is to be auctioned in New York on 31 January.
Christie's said a national newspaper art critic described Sandys as "the most accomplished draughtsman of his age" when reviewing an exhibition of his work at Norwich Castle Museum in 2001.