Barry Reeve murder trial: Woman 'confessed to killing'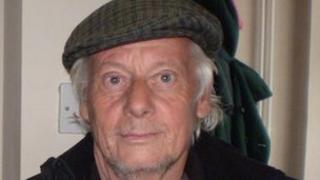 A woman accused of torturing and murdering a 67-year-old man has told a court that her partner confessed to the killing in prison.
Kelly Barnes, 32, and Jodie Barnes, 31, formerly of Bixley Close, Norwich, are accused of targeting retired bus conductor Barry Reeve.
Kelly Barnes told Norwich Crown Court they had both visited Mr Reeve's house in Norwich on 9 February last year but that she did not witness any attack.
Both women deny murder.
The court has been told that the drug addict couple, who were in a civil partnership, had believed that Mr Reeve had large sums of cash.
Giving evidence, mother-of-four Kelly Barnes said she and mother-of-one Jodie Barnes had visited his house in Corton Road on 9 February last year.
'I was devastated'
She admitted going back to the property later that day to take valuables but said she had no idea that by that time Mr Reeve was lying dying inside.
It was only when the pair were arrested weeks later that she realised he was dead, she added.
She told the court: "In prison I asked Jodie if she did it and she said she did.
"I was devastated, I didn't want to believe her. I was in shock. I did not know how to act at the time."
Earlier the court heard Mr Reeve had been punched, stamped on and cut with a knife in an alleged attempt to force him to disclose his PIN.
It is alleged the pair returned to the scene after the attack and stripped it of valuables and food from the freezer while Mr Reeve was still alive.
Mr Reeve's body was found in his blood-spattered home two weeks later when his daughter called to visit.
Pathologist Nat Cary told jurors he believed Mr Reeve had lived for at least 24 hours after the attack.
Mr Reeve lived off a pension and benefits but had been heard talking about having large sums of money, once claiming that he carried around £2,000 in cash.
Kelly Barnes described how Jodie had been the "wife" of the couple, doing all the cooking and taking the children to school.
But she denied she was the dominant partner, saying it was only when she was diagnosed with bipolar disorder that Jodie took on the bulk of the work.
She claimed her partner's confession occurred when they were both being held at Peterborough Prison awaiting trial but could not say when it happened.
She denied "making up" the account.
The case continues.