End of an era for Norfolk car share friends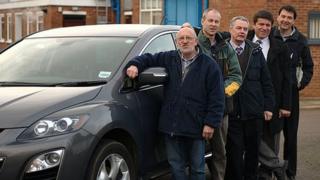 A group of five car-sharing friends, who have travelled together for nearly 20 years, have revealed the scheme has saved them more than £100,000 in fuel.
The men have been sharing the 23-mile journey from Bradwell, near Great Yarmouth, to Syfer Technology near Norwich, since 1993.
The eco-friendly quintet, who all work as engineers, estimate to have saved about 25,000 gallons of petrol.
Founder member Tony Oliver, 64, leaves the 'club' in February when he retires.
Sharing the journey from the east coast to Norwich started with Mr Oliver and his colleague Jan Noble, 55, back in 1982.
Mr Oliver said: "It's one of those things you don't really think about, but a few days ago we thought we must be pretty unique.
"It's rare you get two people sharing a car to work, let alone five - and certainly not for more than 20 years."
In 1985 the commuting duo were joined by Mark Custance, 49, followed in 1993 by Mike Brown, 54, and Brian Bircham, 63.
'Snuggle up'
"The rest is history," said Mr Oliver. "We've worked out we'd have travelled more than a million miles if it was done individually and saved about £100,000 on fuel."
The five-strong team share the driving in weekly rotation and over the years have motored through nearly 40 vehicles.
They have never had an accident, have only suffered one puncture, but did almost get stranded on the Acle Straight one night in heavy snow.
Mr Noble said: "It's the end of an era as Tony has also been my boss for the last 25 years. It'll be sad to break up after all this time, but that's life."
Sharing the driving at the end of the day has also allowed time for a post-work nap.
"To be honest, we hate summer time as it's too light," said Mr Noble. "But in winter, when you get all snuggled up in the back, you nod off - you find that as you get older."
Mr Oliver said he would not miss the daily commute, but the people.
"When you know each other really well we can talk about everything from family difficulties to health problems - every topic is covered, no holds barred - it's often the stuff blokes don't tend to talk about very much.
"We've had some good days travelling and it's remarkable the relationship you form with people as a result.
"So no, I'm not going to miss the journey to work - but I will miss the people."