Rhodri Oliver, 22, is youngest council deputy leader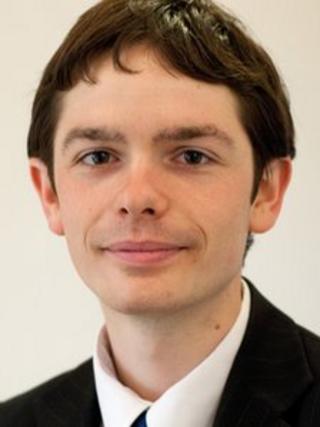 A 22-year-old deputy council leader is thought to be the youngest person currently to hold the position.
Rhodri Oliver, from Aylmerton, will serve on North Norfolk District Council after being chosen by its new leader.
The Local Government Association said it thought Mr Oliver was the youngest deputy in England and Wales.
Mr Oliver said he hoped to be a role model for other young people keen on politics and that people would judge him on his ability, not his age.
A former pupil of Gresham's School, Holt, he became a Conservative ward councillor for Sheringham South in May 2011, with the council elections coinciding with his physics degree finals at Imperial College, London.
"I want to act as a beacon for young people so they know that young people can achieve in areas like politics and not everyone has to be a lot older in order to succeed," he said.
As the grandson of a law lord, Lord Oliver of Aylmerton, he is now taking a law degree through the Open University and plans to juggle his studies with council duties.
Mr Oliver, who is 23 on Thursday, was appointed by new council leader Tom Fitzpatrick, who was elected after the deaths of his predecessor Keith Johnson and wife Andrea.
"It was a great honour and I'm really pleased that he thought he could put that much trust in me," said Mr Oliver, who eventually wants to become an MP.
"I don't have the years of experience which many people will have just by virtue of my age, but I'd like to think that they'll judge me on what I do and what I achieve, rather than on whether they think I can do it and achieve it."
Mr Oliver now plans to stand as a candidate for Sheringham in May's county council elections while pursuing his ambition to become a lawyer, before embarking on his plan to enter Parliament.
People can stand as council representatives from the age of 18.
Green Party councillor Ash Haynes was elected to serve on Norwich City Council in 2010 when she was 20.