Barry Reeve murder: Women tortured pensioner to death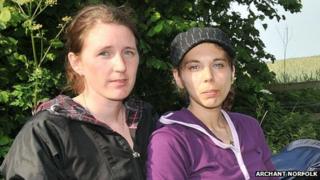 Two women who tortured a retired bus conductor and left him to die have been found guilty of his murder.
Drug addicts Jodie Barnes, 31, and Kelly Barnes, 32, were convicted at Norwich Crown Court of murdering Barry Reeve, 67, at his Norwich home.
The pair, who are civil partners, believed he had hidden money and tortured him in an attempt to make him reveal his Pin code, the court heard.
The women were jailed for life and told they would serve at least 24 years.
Both had denied murder, blaming the other for the killing.
'Forgiven by God'
But a jury of eight women and four men found them guilty after five hours of deliberation.
The court heard Mr Reeve lay dying for up to 48 hours after the attack, during which he was punched, stamped on and slashed with a knife.
Members of Mr Reeve's family wept as the verdict was delivered.
Jodie Barnes, formerly Ramsbottom, who claimed during the trial that "God had forgiven her", clutched a Bible and looked stunned.
Kelly Barnes shook her head and looked towards her partner. The pair whispered to each other before Jodie Barnes broke down in tears.
Prosecuting counsel Karim Khalil QC had told the court Mr Reeve was savagely beaten and his face and torso scored with a sharp blade.
"Both of these defendants went to his home uninvited. He was alive when they arrived and was left dying when they departed," he said.
The jury was told the pair returned to the house in Corton Road after the attack on 9 February last year and stripped it of anything of value, including food from the freezer.
Mr Reeve's daughter Julie said she called the emergency services after finding the back door to her father's home unlocked, blood on an inner door and no answer when she called his name.
As sentence was passed, Jodie Barnes shouted: "I didn't lie, I swore on the Bible."
Jailing them Judge Peter Jacobs told the women: "The man who you killed was frail, old and vulnerable and lived on his own.
"His income was limited, he may or may not have had money.
"Both of you have previous convictions for violence and lived chaotic lifestyles.
'Grotesque situation'
"As a result of the attack, Mr Reeve was kicked, stamped upon and punched, then put to the ground in a semi-comatose state but he was sufficiently conscious to be able to give you information.
"Some form of kitchen knife was used to cut this man. Serious, deep incised cuts were made to both cheeks and to his stomach.
"A forensic pathologist said the obvious: those cuts were made to get information, probably both his Pin number and any information about what was in the property.
"It was a grotesque situation that he was lying there slowly dying and you were going around his property, stepping over and around his body and stealing his property."
He said Mr Reeve's "mental and physical suffering" aggravated the crime, and added: "You were totally indifferent as to whether he lived or died."
Jonathan Goodman, for Kelly Barnes, told the court it had not been a pre-meditated attack.
Jodie Barnes's barrister, Graham Arnold, said: "There was no intention to kill. It is distressing that he was left to die in the way that he was, but there was no attempt to finish him off."