Former Uniglaze site in Thetford bought by businessman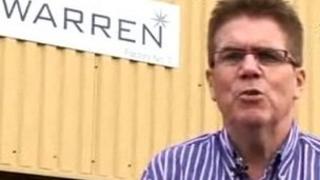 A businessman hopes to double his workforce to 180 in the next five years after buying a former factory site.
Richard Bridgman, who runs Warren Services, has bought the factory in Thetford from the administrators of double-glazing firm Uniglaze.
Mr Bridgman hopes the deal will help his engineering and manufacturing firm bid for new contracts in the offshore renewable energy sector.
He said he planned to open an apprentice school at the site.
Mr Bridgman said: "We would like to train 50 apprentices a year. We currently train 10.
"It is a passion for me. I am more motivated by helping young people than making a profit.
"Being in Thetford, we would like to be employing people from Thetford."
The company has two smaller units and the deal will mean all of its operations, including fabrication, assembly, welding and finishing services, will be under one roof.
Uniglaze went into administration in October last year.
The 50,000 sq ft (4,645 sq m) site has not operated as a factory for several years, and has more recently been used for storage.
Mr Bridgman said he could not disclose how much he had paid for the site.