Queen opens Norfolk hospital's MRI unit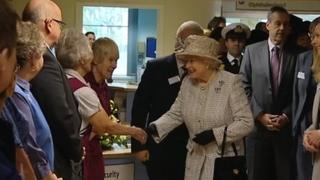 A Norfolk hospital's new £3m MRI unit has been officially opened by the Queen.
She was given a tour of the Queen Elizabeth Hospital in King's Lynn, which is near Sandringham.
The Queen also met patients, including Ian Tupper, 65, from Colkirk, who last met her when she was still Princess Elizabeth and he was three years old.
The MRI suite, which has two new scanners, has been in use by patients since last year.
The hospital has predicted the new unit will increase the number of scans it can carry out from 6,600 a year to 13,000.
The Queen watched as Mr Tupper was scanned and shown images of his skull.
He said: "I was a bit nervous to have the Queen watching, but it was a great honour.
"My parents met the Queen a number of times and I was delighted to be chosen and to have a chance to share that story."
His father Reginald served under the Duke of Edinburgh as chief gunner on HMS Magpie.