Great Yarmouth flood defence scheme 'protects 4,000 homes'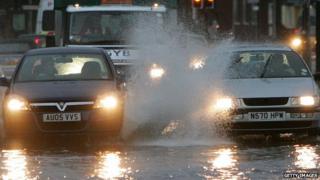 Four thousand homes in Great Yarmouth will be protected by repairs to flood defences, the Environment Agency says.
Some 2,165ft (660m) of flood wall will be replaced in Cobholm and Southtown as part of the £28.6m scheme, one of 93 announced by the government.
Other sections of the defences, which were breached by a tidal surge in 2007, will also be repaired.
Work is expected to start in April and could be completed by the end of 2015, the Environment Agency said.
Flood risk manager Richard Houghton said: "We are delighted this important project can now progress and will be talking to partners about future maintenance and any future phases."
The government said reducing the risk of flooding would help Great Yarmouth attract new businesses.