Patient alleges Norfolk and Norwich Hospital assault by security guards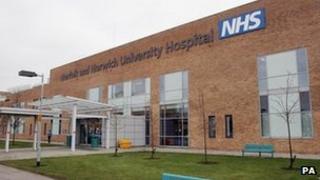 Police are investigating claims from a woman patient that she was assaulted by security staff at Norfolk and Norwich Hospital.
The 50-year-old said she was being treated for a panic attack but was restrained by guards after she had seen a doctor and was leaving.
Norfolk Police said they had taken a statement and were investigating the claims.
The hospital said its security staff were trained in restraint techniques.
A hospital spokesperson said: "Our security staff are trained in respectful restraint and in cases where patients are at risk to either themselves or our staff, then our staff will call the security team for assistance."
A Norfolk Police spokesperson said: "Inquiries are ongoing to establish the circumstances surrounding the alleged incident."