Caister-on-Sea bodies: Barry and Jean Ellis deaths 'not suspicious'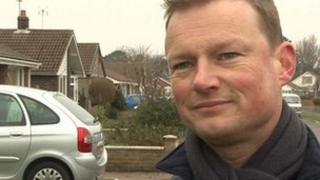 The deaths of two people at a bungalow in a Norfolk seaside resort are not being treated as suspicious, police have confirmed.
Barry and Jean Ellis were found at their home in Upper Grange Crescent, Caister-on-Sea, after a window cleaner called police on Tuesday lunchtime.
Roy Holland, 39, said the pair "hadn't been seen for days" and had pints of milk building up on their doorstep.
Initial findings suggested Mrs Ellis died of natural causes, police said.
It added further toxicology tests would be carried out on the bodies in due course.
Officers have ruled out that Mr Ellis, 71, and Mrs Ellis, 69, suffered carbon monoxide poisoning.
The couple, who have not been formally identified, had lived in the area for about 30 years.
'Sitting in the chair'
Firefighters checked the property with gas analysis equipment before police and paramedics could enter.
Mr Holland, who has cleaned the couple's windows for more than 10 years, said: "It was quite a shock. It's not something which you like to see - it's a thought that won't got away for quite a while.
"You get to know your customers and if they are in or out. Both cars were in the drive.
"There were six pints of milk on the doorstep and the neighbours said they hadn't seen them for days.
"I then decided to take a look through the window and saw the gentleman sitting in the chair. They never went anywhere without each other so if the gentleman was in, it was likely his wife was at home too."
Mr Holland said Barry Ellis had worked on a gentleman's clothing stall on Great Yarmouth Market.
Det Insp Sarah Pettengell said police were not looking for anyone else in connection with the deaths.
"We are continuing to carry out inquiries at the house and the focus of our investigation is inside the property," she said.