Dereham parking row leads to shoppers getting 'fined'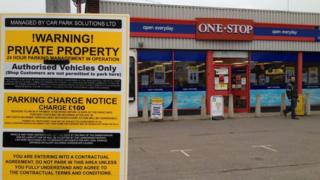 More than 500 shoppers have been fined £60 in a fortnight following a row about car parking in a Norfolk town.
Customers have begun to receive parking charge notices for leaving their vehicles in front of the One Stop store in Norwich Road, Dereham.
Landowner Zevy Shainfeld said he was enforcing the charge because he could not come to a car parking rental agreement with the store.
One Stop said it was in talks with Mr Shainfeld to try and resolve the issue.
Mr Shainfeld, who is also the store's landlord, said the neighbouring funeral service had come to an agreement about parking spaces.
He said signs were put up in August 2012, but no action was taken against people parking there until 27 January this year.
'Reasonable amount'
Mr Shainfeld said: "We must enforce this in order to protect the parking rights in favour of those tenants that have paid to enjoy these [spaces].
"We first wrote to One Stop in October 2011 and we have made repeated requests that they deal with this and discuss a commercial arrangement to use these spaces.
"One Stop have over 500 stores and are owned by Tesco. They should be making suitable arrangements for their customers."
A One Stop spokesperson said: "We always try to do the right thing by our customers and we have been in talks with the owner of the site to try and resolve this issue.
"We are prepared to pay a reasonable amount in order that our customers may park without incurring these charges."
One Stop said it had put up extra signs in its window to explain that the forecourt was not a One Stop car park.
Charges for unauthorised parking were £60, rising to £100 if not paid within 14 days.