Boy's rare condition requires global consultation for treatment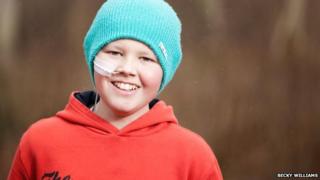 At the age of 13, Deryn Blackwell has already been through more than most people would in a lifetime.
When he was 9 he was diagnosed with Tourette's syndrome and autism. A year later he was found to have leukaemia, and last year he was told he also had Langerhans Cell Sarcoma, a very rare cancer.
The emergence of Langerhans cell sarcoma baffled doctors at Cambridge's Addenbrooke's Hospital, which said fewer than 50 cases had ever been recorded.
Haematology and oncology consultants from around the world were consulted on how it should be dealt with, as there was "no established treatment option".
The proposed solution was to send Deryn to Bristol Royal Hospital for Children, where he will have a bone marrow transplant on 1 March before spending up to seven months in isolation.
'Hollow bones'
Deryn's mother, Callie Blackwell, 33, said: "They decided a bone marrow transplant was the best way to go, as Langerhans cells are found in the bone marrow.
"His bones will be hollow, he'll have nothing making his own bone marrow and his immune system will be gone."
Mrs Blackwell, who lives in Watton, Norfolk with her husband Simon, Deryn and his eight-year-old brother, Dylan, said the hospital had been very good in talking about what would happen, but admitted this was a case of the unknown.
"Because he is such a one-off they can't give us any statistics, percentages, anything," she said.
"They've been very honest and said 'we don't know if this is going to work', but they'll do everything his body can physically handle in the hope that it works.
"He's having total body irradiation and direct radiotherapy to his tonsillar area."
Mrs Blackwell said she had been amazed at how Deryn had coped with his illnesses, saying he "breezed" through the treatment for leukaemia which saw him miss about seven months of school.
"He carried on studying at home and got 100% on his SATS," she said.
'Get on with it'
Mr and Mrs Blackwell gave up their jobs in 2010 to care for Deryn, whose treatment is being funded by the NHS.
Mrs Blackwell said she had been "humbled" by friends, family and strangers who had donated more than £7,000 to support the family while Deryn was being treated.
As for Deryn, she said he remained "very, very positive".
"He's always had the attitude of 'it's happening, let's get on with it'," she said.
"He's on the low spectrum for autism, but I think this helps him deal with it. He doesn't get too emotional or over think things, he's very logical.
"He knows moaning won't change anything."
A spokesperson for Addenbrooke's said Deryn's condition was "fairly unique".
"Langerhans cell sarcoma is extremely rare, with only 40-50 reported cases in the literature, and only one other case of it arising from his particular type of leukaemia (acute lymphoblastic)," the spokesperson said.