Tenerife beheading: Family says murder trial is 'daunting'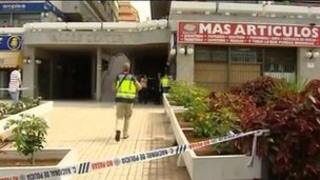 The daughters of a Norfolk woman who was beheaded in Spain have described returning to the country for the trial of her attacker as "daunting".
Jennifer Mills-Westley, 60, a retired road safety officer from Norwich, was killed in the resort of Los Cristianos, on the island of Tenerife, in May 2011.
Deyan Deyanov, a Bulgarian man with a history of mental health problems, is due to go on trial on Monday.
Ms Mills-Westley's daughters, Sarah and Sam, said they would be at the trial.
They said they wanted to come "face to face" with the man accused of her murder and wanted to banish memories that had been "shrouded by the brutality of her death".
'Reopen wounds'
In a joint statement they said their lives had changed "irrevocably" when they heard the shocking news that their mother "had been brutally murdered in Tenerife".
"Going back to Tenerife not only is a daunting prospect but it will reopen our wounds.
"We have to hope that justice will prevail so we can lay our mother to rest, and remember her in happier times rather than the memories we currently have - memories which are shrouded by the brutality of her death."
Ms Mills-Westley had been living in Tenerife after retiring from her job with Norfolk County Council.
She was stabbed and decapitated inside a store on the island.
The Foreign and Commonwealth Office said it was continuing to provide consular assistance to the family.