Hens dumped at Norfolk's 'chicken roundabout'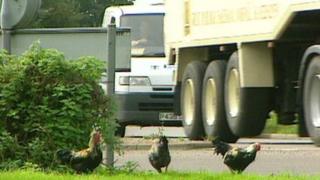 Five miniature hens have been seen at a Norfolk roundabout, once well known for being the home of a flock of hens.
The birds appeared at the weekend at a roundabout at Ditchingham, close to the Suffolk town of Bungay.
Bungay town councillor Deirdre Shepherd said the birds had been "dumped" without food or shelter and two were already dead.
The RSPCA has been notified and plans to send an inspector to the roundabout to assess the birds' well-being.
'Tiny show birds'
Mrs Shepherd said: "They can't roost and it's ones of the cruellest things I've ever seen.
"It looks pretty but the birds need shelter and feeding. They are tiny show birds and have no chance of surviving."
Hens lived at the site for several decades before the A143-B1332 roundabout was built, when it became known locally as chicken roundabout.
The birds were fed by Bungay resident Gordon Knowles until the last half dozen of the birds were handed in to an animal charity nearly three years ago.
In October a facebook page was set up to campaign for a permanent memorial to the hens to be put up on the roundabout.