Blickling Hall: WWII bomb found in lake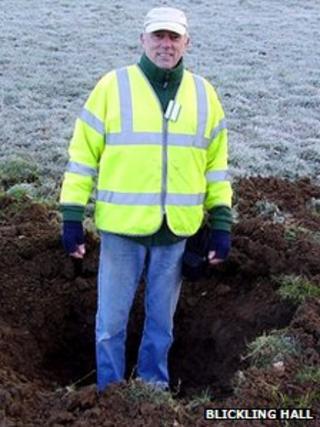 A wartime bomb thought to have been discarded during VE Day celebrations has been blown up at a National Trust property in Norfolk.
Bomb disposal experts from Colchester carried out a controlled explosion on Tuesday in the grounds of Blickling Hall, near Aylsham.
It was found on Monday in a lake as workers picked litter after water levels were lowered for repair work.
The discovery caused little disruption to visitors to the 16th Century home.
Phosphorus device
Premises manager Spike Malin said: "One of the team said they had found a mortar, so I reported it to police and they set up a cordon and one of the policemen had to stay overnight."
Blickling Hall was used as an officers' mess for nearby RAF Oulton during WWII and was home to British, US and Canadian servicemen.
"We think as part of the VE celebrations that they fired a phosphorus mortar into the lake to put on a bit of a show," said Mr Malin, who was a RAF policeman for 25 years.
The 18-inch white phosphorus device, which burns rather than explodes, was destroyed by experts early on Tuesday morning before the house opened.