High Court to decide Lotus chief's £6.7m sacking claim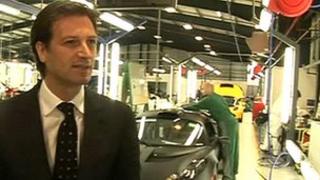 A hearing to decide an unfair dismissal claim against Norfolk-based sports car firm Lotus by its former chief executive will take place next year.
Dany Bahar claims he was sacked prior to the sale of the firm which would have earned him 5% of its value.
But Lotus and its parent DRB-Hicom claim they were entitled to dismiss Mr Bahar.
The £6.7m claim will be heard at the Queen's Bench Division of the High Court in London in June 2014.
The Group Lotus board dismissed Mr Bahar in June 2012 and replaced him with senior executive Aslam Farikullah, 51.
Mr Bahar, who had announced an ambitious new product development plan at the Paris motor show in October 2010, claims he learned of his dismissal in a company press release while on holiday with his family.
Mr Bahar's three-year contract had earlier been renewed for a further period up to the end of September 2015.
In a writ presented to the High Court in London, Mr Bahar claims new terms in the contract said that in the event of the sale of any part or the whole of Group Lotus he would be entitled to 5% of the purchase price.
He now claims the company wished to renege on this deal and then made unsubstantiated complaints against him.
Group Lotus and DRB Hicom have so far said they would not be drawn into commenting on the details of Mr Bahar's claim but said they were fully entitled to dismiss him and his writ would be vigorously contested.