The Brit Awards: Norfolk designers enjoy sweet success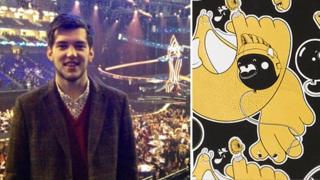 The annual Brit Awards have showcased the work of a graphic design student and an artisan chocolatier from Norfolk in front of the biggest names in music.
Matthew Callaby, from Norwich, won a design challenge to students at Norwich University of the Arts (NUA) to create artwork for Sony Music at the event.
"It was an amazing experience," said Mr Callaby, who met Justin Timberlake.
Dale Skipper, from Walsingham, created a "chocolate bouquet" for double Brit Award winner Emeli Sande.
Having originally trained as a ceramist, her work fell under the celebrity spotlight last year after she was commissioned to make gifts for Katy Perry, Coldplay and Blur.
"It's an amazing thing to be asked to create something for the Brits as you get to be part of such a massive thing," said Ms Skipper from the Chocolate Deli.
"I was asked to create Emeli a good luck charm for her dressing room that was flamboyant and that could be personalised, so I came up with the chocolate lolly bouquet - it clearly worked.
"Usually its the London chocolate makers that get all the attention, but clearly people are getting a taste for what Norfolk has to offer."
'Sheer effort'
Mr Callaby's Brit-winning designs were used by Sony for their awards's after show party.
"I got to go to the Brits and the party to see how the design went down, and I've got a great piece for my portfolio," said the student who lives in Thorpe St Andrew.
Mr Callaby's design was chosen "because it was bold, adventurous and you could see the sheer effort he'd put into creating a stand-out piece of work", said the judges from Sony Music and London-based creative agency FOAM.
The 22-year-old student, who is in his final year of study for a degree in graphic design, said: "It was an amazing experience being introduced to the directors of Sony and having them really genuinely happy with my work.
"I was fortunate enough to be introduced to a number of incredible people and having a quick chat with Justin Timberlake was pretty cool too."