Cromer man jailed for attempting to stab police officer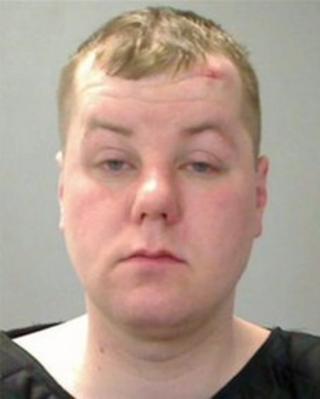 A man who was filmed on CCTV attempting to stab a police officer has been jailed for three years and 10 months.
Sgt Andy Smith was protected by his body armour when Shane Denton tried to plunge a knife into his chest in Cromer, Norfolk, on 9 October 2012.
Denton, 29, of Cromer, admitted attempting to wound with intent to do grievous bodily harm and was sentenced at Norwich Crown Court on Monday.
Speaking after the case, Sgt Smith said Denton had wielded two knives at him.
The officer had approached him outside Holt Road police station after he had thrown a bottle of spirits at the window.
'Threw knives'
"He apologised for what he was going to do," said Sgt Smith.
"He then he pulled out two knives from his waistband and thrust one into my chest.
"I stepped back withdrawing my baton, and he threw both knives at me from close range which I was able to duck.
"I feel very fortunate that my body armour protected me from a wound which could have killed me."
Sgt Smith was able to restrain Denton, of Westcliff Avenue, and he was arrested.
The officer added: "We train regularly for situations like this, but don't expect to be confronted with a man wielding two knives in Cromer."
Denton was also fined £120.