King's Lynn incinerator: Saddlebow plans inquiry opens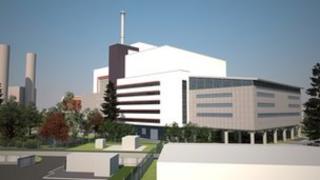 Hundreds of people have attended the opening of a planning inquiry into plans to build a £500m waste incinerator in west Norfolk.
The plans are backed by Norfolk County Council (NCC), but opposed by King's Lynn and West Norfolk Borough Council.
People at the inquiry demanded to know what the Saddlebow plant will burn and where the waste will come from.
NCC issued an edited version of their contract with Cory Wheelabrator claiming "commercial confidentiality".
Lawyers for the four main parties - Cory Wheelabrator, NCC, King's Lynn and West Norfolk Borough Council and the campaign group King's Lynn Without Incineration - made their opening statements, as the inquiry opened at King's Lynn Corn Exchange.
Campaigners said the information in the plant's contract between NCC and the consortium Cory Wheelabrator should not be confidential as the details are a key factor in how the site will operate.
It will also show whether the consortium will have to import rubbish into Norfolk in order to keep the incinerator operating
When the point was pressed by campaigners Elizabeth Hill, the planning inspector in charge, said she promised to write to the local government secretary Eric Pickles to see if he was able to demand the full details.
Alex Kemp, labour county councillor for Clenchwarton and King's Lynn South division, where the incinerator would be build, said she had also written to ask the public accounts select committed at the House of Commons for their help in getting the whole agreement made public.
The hearing has been adjourned until next Tuesday, when it is due to resume at the West Norfolk Professional Development Centre in King's Lynn.
It is anticipated the inquiry will last until 19 April.