Felbrigg Hall: Clock restored by Gillian Hart legacy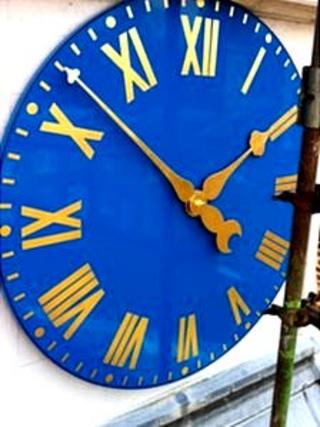 An 18th Century clock at a historic hall in Norfolk has been restored with a £25,000 bequest.
The turret clock at Felbrigg Hall, near Cromer, has been refurbished using money left in a will by Gillian Hart, who lived on the National Trust estate.
The timepiece, which chimed a bell every hour above the house's service wing, dates back to the 1770s.
Mary Llewellyn, a friend of Mrs Hart, said: "She wanted it restored because it is part of Felbrigg Hall."
Mrs Hart died four years ago but lived with her late husband Henry, a former dean at Queens' College, Cambridge, in a cottage near the main hall from the 1970s.
'Too expensive'
When the clock stopped working in 1999, the National Trust told Mrs Hart it was "too expensive" to refurbish, according to her friend.
"She, her husband and friends always enjoyed the clock and wanted it back in action," said Miss Llewellyn.
The piece was created by Norwich clockmaker Thomas Page, who also produced similar ones at Sheringham Hall and Blickling Hall.
The Felbrigg clock features a bird cage-type frame which houses the mechanism.
It had to be sent to a specialist clock company in the Lake District, where staff have spent hours reconstructing and re-gilding it.
Paul Coleman, a building surveyor for the National Trust, said: "The bit the public will be aware of is that a bell will now ring with a sharp hum-note.
"It's going to be a very prominent feature coming back to Felbrigg.
"The state of the dial had deteriorated to the point where you couldn't see the numerals and the backboard was in a sorry state."
The face and hands are being re-installed and the inner workings will be fitted over the next two to three weeks before it is switched on.