Norwich jewellery thief snared by shop shutters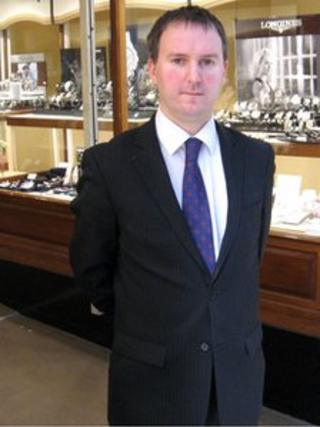 A jewellery thief was trapped in a shop foyer when staff brought down security grilles.
Daniel Hutton, 29, of Lothian St, Norwich, grabbed items worth nearly £4,000 after using a hammer to smash the windows of Dipples in Swan Lane.
He pleaded guilty to burglary and theft at Norwich Magistrates' Court.
Manager Chris Ellis, 34, said: "We decided we'd put the grilles down to try to secure the shop, thinking that he'd run away but he didn't.
"The grille came down slowly but he kept hammering and was captured."
At the time of Monday's incident there were customers in the shop, which has been run by Mr Ellis's family for 120 years.
The security system took several seconds to come down during the lunchtime attack, but the thief made no effort to get away.
"It's long enough for you to hear it, get out of the way and not get trapped," said Mr Ellis.
Once stuck in the entrance, the thief paced around and continued to take items from the display.
Mr Ellis said despite being "slightly shocked", he was "glad that no-one was hurt and nothing got taken".
The case has been sent to Norwich Crown Court and Hutton will be sentenced at a later date.