Boxer Herbie Hide quizzed by drugs police in Norfolk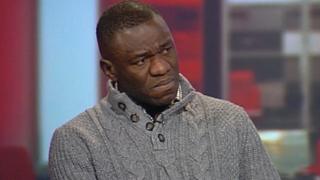 Boxer Herbie Hide has been questioned by police in connection with the supply of illegal drugs after he voluntarily attended a police station.
The questioning of the 41-year-old former world champion from Norfolk follows the arrest of a man at an address in Norfolk last night on suspicion of supplying Class A drugs.
Police said the 21-year-old was questioned and released on bail.
Hide held the World Boxing Organisation version of the heavyweight title twice.
Police said: "Enquiries continue and a file will be submitted to the Crown Prosecution Service in due course."
Mr Hide's questioning follows drugs allegations made by The Sun on Sunday, which he has strongly denied.
Reporters for The Sun filmed Herbie Hide - apparently claiming he could fix boxing matches.
They also said he put them in touch with a drug dealer and their footage showed another man offering what he described as cocaine.
Mr Hide denies any connection to fight rigging or drugs.