William Phillips inquest: Coroner seeks head injury improvements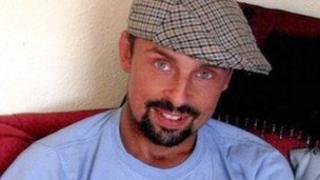 A coroner is to ask hospital managers to improve procedures for dealing with head injuries after a pedestrian died following an argument in Norwich.
William Phillips, 34, hit his head on the pavement in Oak Street on 18 July and died two days later.
Witnesses saw a cyclist, named at the Norwich inquest as Luke Howard, 22, push him over before cycling off.
Deputy assistant coroner David Osborne recorded a narrative verdict on Wednesday.
The inquest heard it was a "gentle" push but that a degenerative brain condition made Mr Phillips unsteady on his feet.
Shortly before the incident Mr Phillips had been seen walking in the road, forcing traffic to avoid him.
'Vulnerable to fall'
Mr Phillips had adrenoleukodystrophy, a condition similar to multiple sclerosis which sometimes led to manic behaviour and him being verbally abusive.
Dr Simon Shields, a neurologist, told the inquest this may have led to Mr Phillips appearing to be drunk.
He added: "His condition would not have made him more susceptible to a head injury, but it may have made him more vulnerable to fall."
Following the altercation, Mr Phillips was treated at a nearby doctor's surgery.
He was then taken to A&E at the Norfolk and Norwich University Hospital as he had vomited after drinking a cup of tea.
Mr Osborne said he was assessed by an A&E doctor who diagnosed a minor head injury and discharged him "with head injury advice and without a CT scan."
He was taken home by taxi but discovered dead at his home in Derby Street, Norwich, two days later.
Mr Osborne said he would write to hospital managers about carrying out better checks of medical records and A&E staff should be reminded of guidelines to carry out CT scans on "low risk" cases within eight hours.
Mr Howard - the cyclist - was arrested 10 days after the incident, but was later released without charge as police concluded the death was not suspicious.