Sighting of 'panther' in Norwich sparks police tweet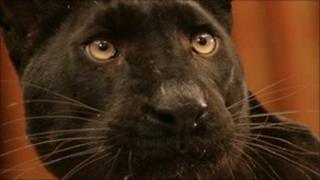 An alleged sighting of a large cat, "possibly a panther", in Norwich has sparked an unusual appeal by police.
Staff at Norwich Camping and Caravan Club spotted what looked like a large black cat near Martineau Lane on the outer ring road on Wednesday.
They called police after a worker also found a dead muntjac deer nearby.
The Twitter account @NorwichPoliceUK stated "we had a report of a large cat, possibly a panther prowling around... anyone see anything similar?!"
A police spokeswoman said police community support officers had taken to Twitter after a failed attempt to find the animal.
The mystery creature has not shown up again.
Norfolk Police are not strangers to reports of big cat sightings, with about 80 calls in the past seven years - mostly in rural areas.
But each time the fearsome predator has either vanished when police arrive, or turned out to be something much smaller - and cuddlier.
A "tiger" lying between two cars in Norwich in 2011 and a "very large striped cat" resembling a tiger in Bradwell in 2010 were, in fact, stuffed toys.
In August last year, holidaymakers believed they had seen a lion on the sun-drenched plains of St Osyth near Clacton-on-Sea in Essex.
Experts from Colchester Zoo and police firearms officers helped in the search.
It was simply a large domestic cat, Teddy Bear, basking in the sunshine.